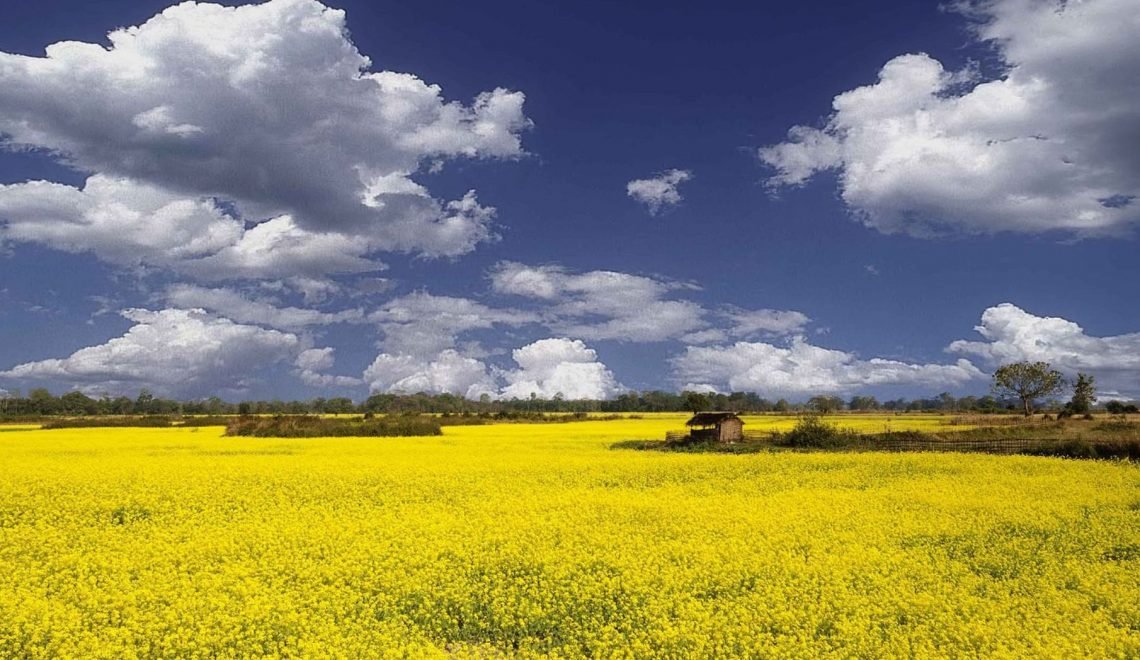 Welcome to the enchanting land of Assam, where nature's splendour meets ancient traditions and vibrant cultures. Nestled in the northeastern corner of India, Assam is renowned for its breathtaking landscapes, diverse wildlife, and rich heritage.
While the state's capital city, Guwahati, and the famous Kaziranga National Park may be familiar names, a treasure trove of unexplored cities is waiting to be discovered.
Embark on a journey off the beaten path as we unveil the hidden gems of Assam. From the misty hills of Haflong to the tranquil charm of Tezpur, these thirteen cities offer a captivating blend of history, natural beauty, and warm hospitality.
Wander through the ancient ruins of Sivasagar, soak in the serenity of Majuli Island—the largest river island in the world—or explore the tea estates of Jorhat, where the aroma of Assam tea fills the air.
Each city boasts a unique character, inviting travellers to witness a tapestry of cultures, indulge in delectable local cuisine, and delve into age-old traditions.
Whether you seek spiritual enlightenment in Hajo or crave adrenaline-fueled adventures in Dibrugarh, Assam's unexplored cities promise an unforgettable experience that will leave you longing for more.
Pack your bags and embark on a captivating journey as we unveil the 13 Assam unexplored cities waiting to be discovered.
1. Haflong
Nestled amidst rolling hills and lush greenery, Haflong is a hidden gem waiting to be discovered. With its untouched natural beauty and serene ambience, this enchanting city offers a tranquil escape from the chaos of urban life. Immerse yourself in the picturesque landscapes, explore vibrant local cultures, and indulge in thrilling outdoor adventures. Haflong promises a refreshing journey off the beaten path.
2. Tezpur
Step into a city steeped in history and mythology – Tezpur. From ancient ruins to mythological tales, this captivating destination weaves together the past and the present in a seamless tapestry. Discover architectural wonders, like the iconic Agnigarh Hill, which offers breathtaking panoramic views. Dive into the cultural melange of folk dances, music, and traditional cuisines. Tezpur promises an immersive experience for history buffs and culture enthusiasts alike.
3. Majuli

Hidden within the mesmerising waters of the Brahmaputra River lies Majuli, the world's largest river island. Picture yourself surrounded by a surreal landscape of swaying paddy fields, vibrant wetlands, and picturesque villages.
Explore the island's rich heritage of neo-Vaishnavite culture, with its monastic traditions, colourful festivals, and soul-stirring music and dance performances. Embark on boat rides along the river, encounter rare wildlife, and witness the traditional art of mask-making. Majuli is a treasure trove of unique experiences waiting to be unravelled.
4. Diphu
Welcome to Diphu, a quaint town nestled in the heart of the hills of Assam. Immerse yourself in the breathtaking beauty of its untouched landscapes, where mist-covered mountains and cascading waterfalls transport you to a realm of tranquillity. Discover the vibrant Karbi culture through their traditional dances, handicrafts, and lip-smacking cuisine.
Unleash your adventurous spirit as you trek through verdant trails, encounter exotic flora and fauna, and immerse yourself in the warmth of the local communities. Diphu offers an offbeat escape into nature's embrace.
5. Sivasagar
A Timeless Oasis of Royalty Step into Sivasagar, where history blends seamlessly with natural beauty. This unexplored gem in Assam transports you to a bygone era with its majestic palaces, ancient temples, and mesmerising lakes.
Unravel the tales of Ahom kings as you wander through the ruins of Rang Ghar and Kareng Ghar, architectural wonders of the past. Let the tranquil waters of Sivasagar Lake reflect the splendour of a forgotten dynasty. Discover the untold stories that await in this regal haven.
6. North Lakhimpur
Welcome to North Lakhimpur, where the wilderness weaves its own enchanting symphony. Surrounded by lush greenery and picturesque landscapes, this unexplored paradise in Assam beckons adventurers and nature lovers alike.
Lose yourself in the untamed beauty of Subansiri River and its cascading waterfalls. Trek through pristine forests, encountering exotic flora and fauna at every turn. Witness the harmonious coexistence of man and nature in the quaint villages that dot the region. North Lakhimpur invites you to unlock the secrets of its pristine tapestry.
7. Barpeta
Prepare to be captivated by Barpeta, a lesser-known cultural hub in Assam. Immerse yourself in the vibrant festivities of this unexplored city, where traditional music, dance, and art breathe life into every corner.
Discover the mystical allure of Satra, monastic institutions that preserve the ancient dance form of Sattriya. Wander through the bustling markets, where artisans showcase their exquisite handicrafts. Let the aroma of delectable Assamese cuisine tantalise your taste buds. Barpeta invites you to immerse yourself in its rich cultural tapestry.
8. Bongaigaon

Journey to Bongaigaon, a city where the past embraces the present. This unexplored gem in Assam seamlessly blends heritage and modernity, offering a unique experience for intrepid explorers.
Marvel at the ancient Bageshwari Temple, a testament to the region's spiritual heritage. Explore the bustling city centre, where towering skyscrapers coexist with traditional bazaars. Embark on a wildlife safari at the serene Chakrashila Wildlife Sanctuary, where nature thrives undisturbed. Bongaigaon awaits, ready to reveal its captivating fusion of the old and the new.
9. Karimganj
Nestled in the picturesque landscapes of Assam, Karimganj is a hidden gem waiting to be discovered. This enchanting city offers a blend of rich cultural heritage and natural wonders. Lose yourself in the maze-like streets, adorned with vibrant markets and historical landmarks.
Explore the tranquil tea gardens that stretch as far as the eye can see, and immerse yourself in the warm hospitality of the locals. Karimganj promises an authentic experience, with its untouched beauty and captivating charm.
10. Hailakandi

Tucked away in the pristine corners of Assam, Hailakandi is a treasure trove of surprises. This off-the-beaten-path destination boasts untouched natural beauty and a serene ambiance. Discover the lush greenery of its forests, where exotic flora and fauna thrive.
Indulge in the tantalising flavours of local cuisine, bursting with unique spices and aromatic herbs. Wander through the quaint streets, adorned with ancient temples and vibrant markets. Hailakandi invites you to embrace tranquillity and forge unforgettable memories.
11. Kokrajhar
Welcome to Kokrajhar, a city that seamlessly blends tradition and modernity. This unexplored haven in Assam is a delightful fusion of diverse cultures and breathtaking landscapes. Immerse yourself in the vibrant festivals that showcase the region's cultural tapestry.
Explore the lush wilderness of the Kokrajhar Wildlife Sanctuary, home to a myriad of rare species. Engage with the friendly locals and savour the flavours of authentic Bodo cuisine. Kokrajhar is an uncharted territory waiting to captivate your senses.
12. Golaghat
Nestled amidst the rolling hills of Assam, Golaghat is a hidden paradise for nature lovers. Unveil its mesmerising beauty as you wander through its emerald tea gardens, where the aroma of freshly brewed tea permeates the air.
Engage in thrilling wildlife encounters at the nearby Kaziranga National Park, home to the majestic one-horned rhinoceros. Immerse yourself in the tranquillity of the Brahmaputra River as it meanders through the city. Golaghat invites you to explore its untouched landscapes and discover its hidden treasures.
13. Mangaldoi
Prepare to be enchanted by the captivating allure of Mangaldoi. Located in the heart of Assam, this unexplored city offers a unique blend of history, culture, and natural beauty. Wander through the ancient ruins and archaeological sites that whisper tales of a bygone era.
Immerse yourself in the vibrant festivities, where traditional dance and music bring the city to life. Lose yourself in the tranquil embrace of nature as you explore the lush forests and gushing waterfalls that surround Mangaldoi. Let this city weave its spell and create lasting memories.
Conclusion: Assam Unexplored Cities
In conclusion, Assam, a beautiful state in northeastern India, is home to a treasure trove of unexplored cities waiting to be discovered. From the enchanting tea gardens of Jorhat to the ancient ruins of Sivasagar, each city offers a unique blend of history, culture, and natural beauty.
The serene river island of Majuli, the vibrant markets of Silchar, and the peaceful town of Haflong are just a few examples of the hidden gems that await adventurous travellers.
With their untouched landscapes, rich heritage, and warm hospitality, these unexplored cities of Assam offer a glimpse into a world yet to be fully discovered. Embark on a journey to these lesser-known destinations and unlock the secrets that lie within their uncharted realms.