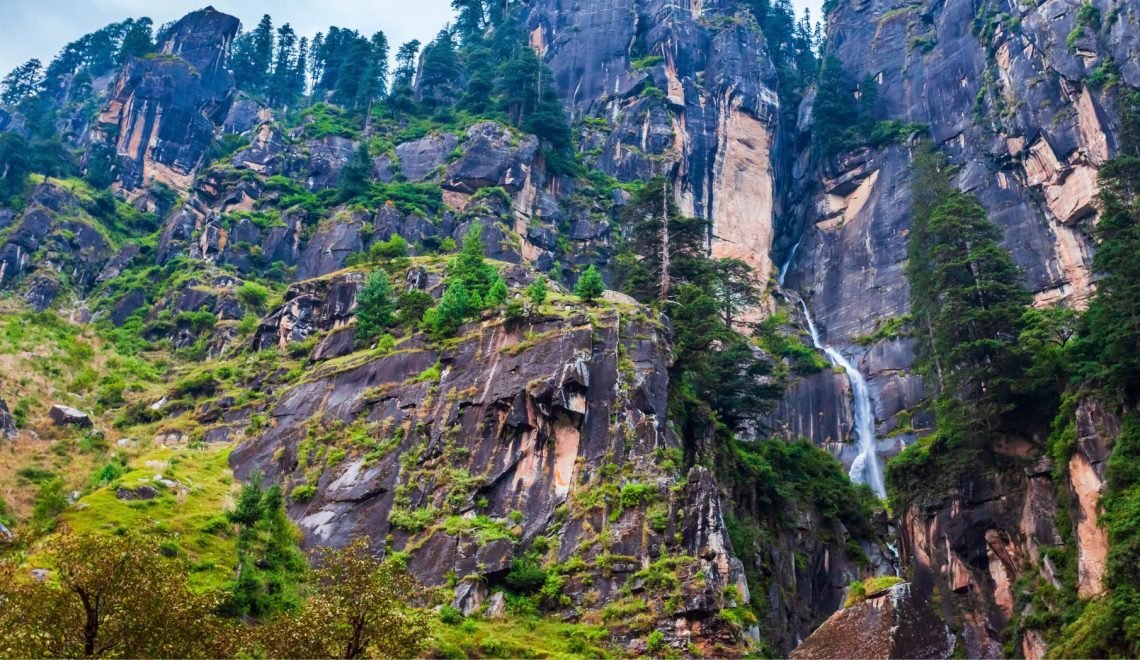 Discover the natural wonders of India and Pakistan with these breathtaking waterfalls. From the enchanting Jogini Waterfall in Himachal Pradesh to the hidden gem of Neogal Waterfall in Swat Valley, each destination offers a unique and awe-inspiring experience. 
Trek through lush green forests to reach the serene Chhota Dhara Waterfall and enjoy the picturesque beauty of Palani Waterfall amidst the Palani Hills Wildlife Sanctuary. 
Whether you seek a refreshing escape, cultural significance, or to immerse yourself in nature's grandeur, these waterfalls have something special to offer. Join us to explore the cascading beauty of these mesmerizing waterfalls.
1. Jogini Waterfall
Jogini Waterfall is a picturesque waterfall in Manali's beautiful town in the Indian state of Himachal Pradesh. It is a popular tourist destination and attracts nature lovers and adventure enthusiasts alike. The waterfall is named after the local deity Jogini Mata and holds religious significance for the region's people.
To reach Jogini Waterfall, one can embark on a moderate trek from Vashisht village, which takes approximately 1.5 to 2 hours, depending on the individual's pace. During the trek, visitors are treated to stunning views of the surrounding mountains and lush greenery.
2. Rahala Waterfall
Rahala Waterfall, also known as Rahalla Falls, is a mesmerizing cascade on the way to the Rohtang Pass in Himachal Pradesh, India. As one of the famous attractions in the region, the waterfall is situated at an altitude, making it a refreshing stop for travelers en route to Rohtang Pass.
The water originates from the melting glaciers of the Himalayas, creating a stunning sight as it cascades down from a considerable height. The surrounding scenery of snow-capped peaks and dense forests adds to the natural beauty of Rahala Waterfall, making it a photographer's delight.
3. Bhagsu Waterfall
Bhagsu Waterfall is a charming waterfall near the Bhagsunath Temple in McLeod Ganj, Dharamshala, Himachal Pradesh, India. This waterfall is a popular destination for locals and tourists due to its accessibility and serene atmosphere.
Visitors can easily reach the Bhagsu Waterfall by taking a short trek from McLeodGanj or Bhagsunath Temple. The soothing sound of water gushing down from the rocky cliffs and the lush surroundings make it an ideal spot for relaxation and rejuvenation. During the monsoon season, the waterfall becomes even more impressive with increased water flow. 
4. Jana Waterfall
Jana Waterfall, also known as Jana Falls, is a hidden gem in the serene village of Jana, nestled in the Kullu district of Himachal Pradesh, India. Unlike other waterfalls in the region, Jana Waterfall remains relatively less crowded, offering visitors a peaceful and offbeat experience.
To reach the waterfall, visitors have to take a short trek through apple orchards and dense forests, which adds to the charm of the journey. The crystal-clear waters cascading down the rocks create a captivating sight, making it an ideal place to unwind and enjoy nature's tranquillity.
5. Chadwick Waterfall
Chadwick Waterfall is a captivating cascade near Shimla, the capital of Himachal Pradesh, India. Surrounded by thick forests and lush vegetation, this waterfall is a favorite spot for nature lovers seeking a break from the bustling city life.
One can take a scenic hike through the picturesque Glen Forest to reach Chadwick Waterfall. The waterfall is named after the British officer, Mr. Chadwick, who reportedly discovered it during the colonial era.
The gushing waters and the serene surroundings make it a perfect spot for a leisurely day picnic or a refreshing break from city exploration. You can even explore the Himachal Pradesh mountains here. 
6. Rozy Waterfall
Rozy Waterfall is a charming waterfall in the Chamba district of Himachal Pradesh, India. Surrounded by dense forests and snow-capped mountains, Rozy Waterfall offers a scenic retreat for those seeking solace in nature. Access to the waterfall usually requires a short trek, making it an ideal destination for adventure enthusiasts.
The sound of the cascading water, coupled with the picturesque surroundings, creates a serene ambiance, making Rozy Waterfall a perfect spot for picnics and strolls.
Conclusion
The waterfalls mentioned in this content exhibit nature's diverse and captivating beauty across different regions of India and Pakistan. Each waterfall possesses its unique charm, attracting travelers with their picturesque landscapes, cascading waters, and tranquil surroundings. 
These destinations offer opportunities for trekking, photography, picnicking, and connecting with nature, making them ideal getaways for nature enthusiasts and adventure seekers. From the remote and lesser-known waterfalls like Sethan and Chhota Dhara to the easily accessible ones like Jogini and Pandoh, each site provides a refreshing escape from bustling city life. 
With their pristine environments and untouched allure, these waterfalls showcase the splendor of our natural world, beckoning visitors to immerse themselves in their beauty and serenity.