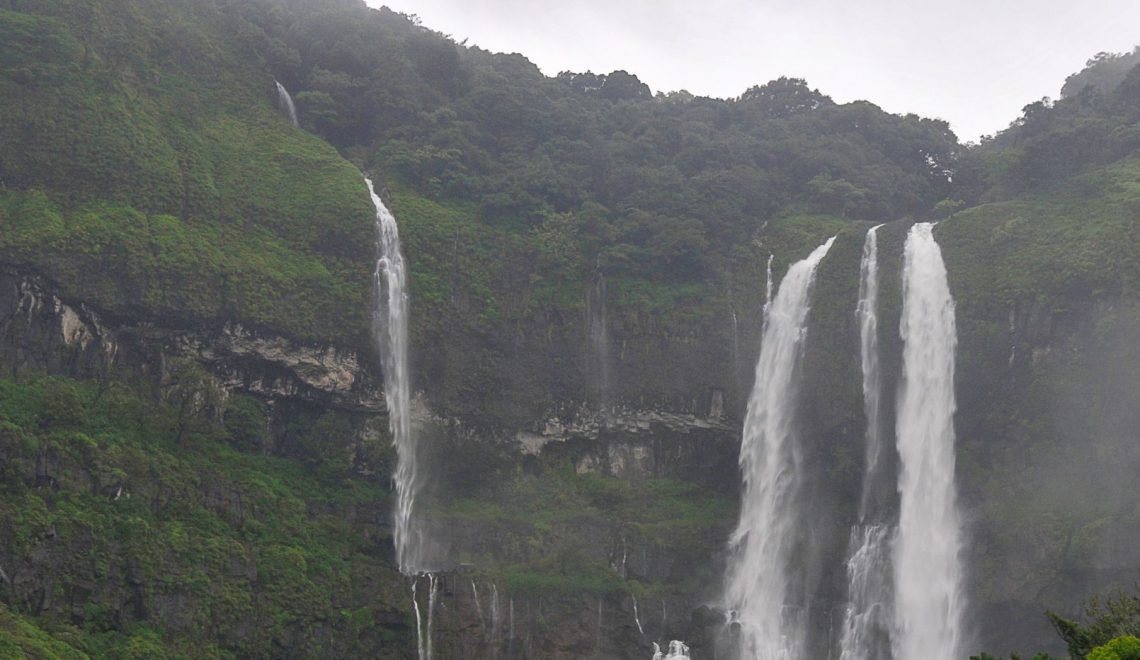 Welcome to the enchanting waterfalls of Maharashtra. In this captivating journey of the Exquisite Waterfalls of Maharashtra, we will delve into the exquisite beauty of these natural wonders. With its diverse landscapes, Maharashtra boasts an array of cascades that leave visitors in awe.
From the roaring falls nestled amidst dense forests to the gentle streams flowing gracefully over rocky cliffs, each waterfall has its unique charm. Prepare to embark on a visual feast as we explore the breathtaking Dudhsagar, the picturesque Thoseghar, and many more hidden gems. Join us as we unveil the captivating allure of the waterfalls that adorn the heart of Maharashtra.
1. Thoseghar Waterfall
The waterfall stands as a stunning testament to nature's artistry. With a series of cascades, the main waterfall plummets down from approximately 500 meters (1640 feet), creating a breathtaking sight of roaring beauty.
Situated near the village of Thoseghar, this waterfall gains its greatest strength during the monsoon, when the surrounding hills are covered in a verdant cloak, enhancing the allure of the falls.
The thunderous roar of water and the misty spray that engulfs the area create a magical atmosphere, attracting visitors seeking respite from urban life and seeking solace in nature's embrace.
2. Vajrai Waterfall
Vajrai Waterfall, located in Satara district, Maharashtra, is a breathtaking natural marvel that captivates visitors with its sheer beauty and impressive height. Towering at a staggering height of around 853 feet (260 meters), it is the tallest waterfall in the state.
Nestled amidst lush greenery and the Sahyadri mountain range, the cascading waters create a mesmerizing spectacle, especially during the monsoon season when it flows in full force.
Its surroundings offer a serene atmosphere, making it a popular destination for nature enthusiasts and trekkers alike seeking an unforgettable experience amid the tranquil charm of the Western Ghats.
3. Bhivpuri Waterfall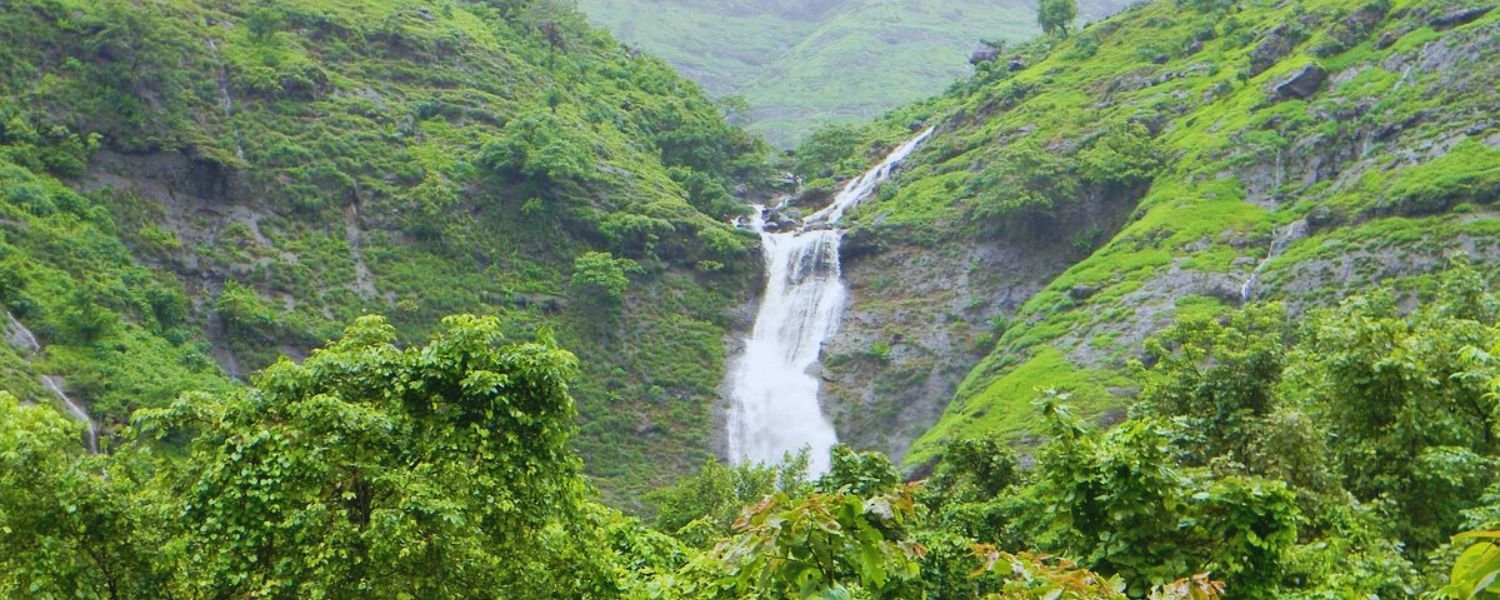 In the picturesque town of Bhivpuri in Raigad district, Maharashtra, Bhivpuri Waterfall is a hidden gem that offers a serene escape from the city's hustle and bustle. Surrounded by lush vegetation and nestled amidst the Sahyadri mountain ranges, the waterfall delights visitors with its serene beauty and refreshing waters.
Easily accessible by a short trek, it becomes a popular destination during the monsoon when the cascading waters reach their peak, creating a picturesque sight. The soothing ambiance and the chance to indulge in a natural shower make Bhivpuri Waterfall an ideal spot for a rejuvenating day trip and a memorable communion with nature.
Discover the rich history and cultural heritage that awaits you in Maharashtra. Read our blog on flavors of Maharashtra dishes now and complete your journey of discovery!
4. Randha Falls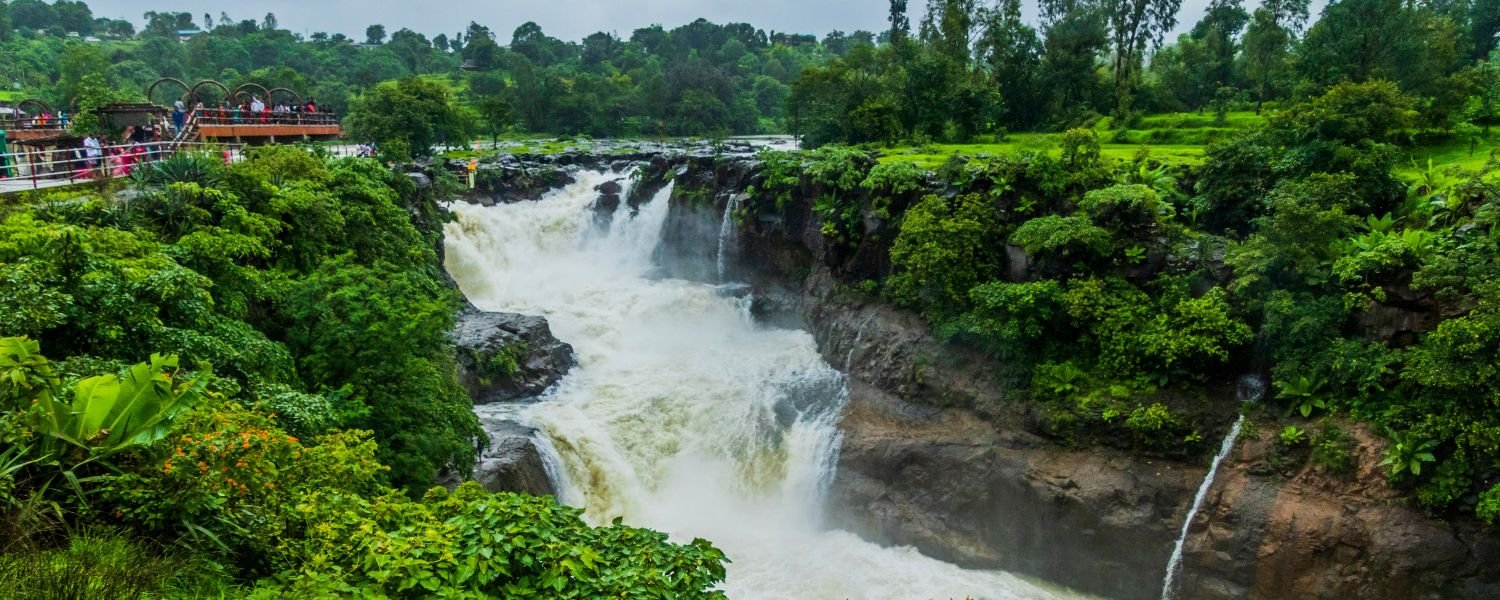 Randha Falls is a captivating cascade located in Ahmednagar, Maharashtra, India. Formed by the Pravara River, it is one of the most prominent waterfalls in the region, cascading down from a height of around 170 feet.
The sight of water plunging into the lush green valley creates a mesmerizing spectacle, attracting nature enthusiasts and tourists alike.
The surrounding landscape offers a picturesque view, making it a popular destination for nature walks and picnics. Its breathtaking beauty and tranquil ambiance make Randha Falls an ideal spot to immerse oneself in the wonders of nature.
5. Lingmala Waterfall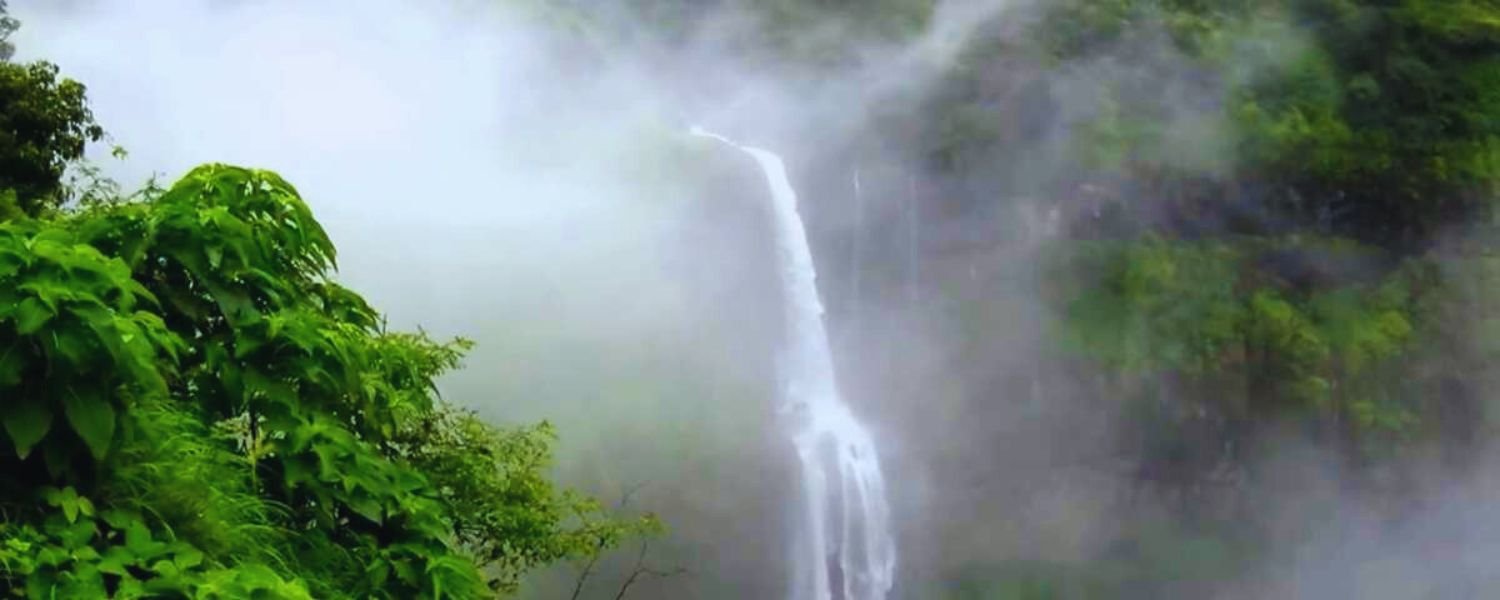 Nestled amidst the serene Sahyadri Mountains in Mahabaleshwar, Maharashtra, Lingmala Waterfall is a stunning natural wonder. This picturesque waterfall comprises two cascades – the mini waterfall and the main waterfall. The glistening water streams gracefully cascade from around 600 feet, creating a postcard-worthy sight.
Visitors can relish a refreshing trek through the verdant forests to reach the falls, soaking in the misty spray and marveling at the lush surroundings. A popular tourist attraction, Lingmala Waterfall is an oasis of tranquillity, offering a rejuvenating escape from city life.
6. Kune Falls
In the charming hill station of Lonavala, Maharashtra, Kune Falls is a majestic three-tiered waterfall. Falling from a height of approximately 200 meters, it is one of the highest waterfalls in the state. The scenic beauty surrounding the falls adds to its allure, making it a sought-after destination for nature lovers and photographers.
Visitors can take a short hike to reach the falls and enjoy the captivating view of water cascading down amidst verdant hills. The lush greenery and the soothing sound of water create an enchanting ambiance, making Kune Falls a must-visit spot for anyone exploring Lonavala's natural wonders.
7. Devkund Waterfall
Nestled in the Sahyadri ranges of Maharashtra, Devkund is a mesmerizing natural wonder known for its ethereal beauty. The waterfall's charm lies in its pristine turquoise plunge pool, formed by the cascading Kundalika River amidst lush greenery and rocky terrain.
Visitors embark on a scenic trek through dense forests, crossing wooden bridges and brooks to reach this secluded paradise. The captivating sight of the waterfall gracefully tumbling down from a height adds to the allure. Nature enthusiasts and trekkers are drawn to Devkund to relish its unspoiled tranquillity and indulge in soul-rejuvenating experiences surrounded by captivating wilderness.
8. Amboli Waterfall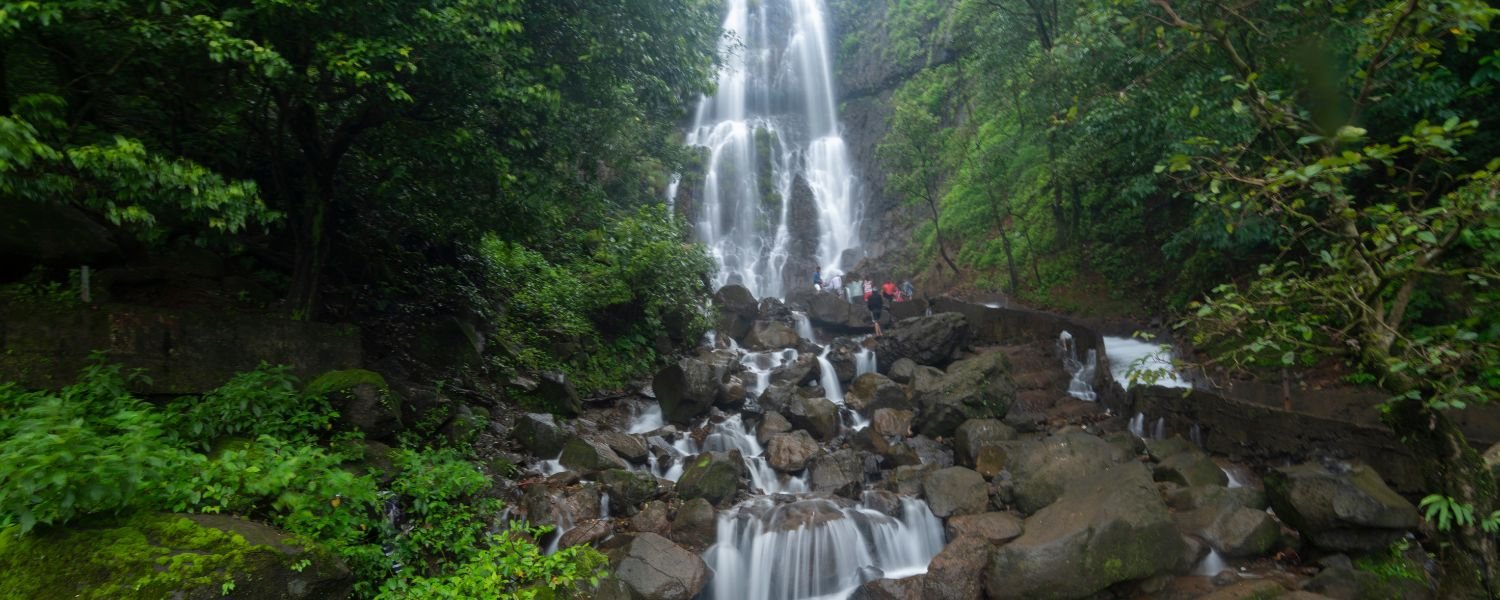 Embraced by the Sahyadri Hills, Amboli Waterfall is a captivating cascade located in Amboli, Maharashtra. This hidden gem attracts travelers with its breathtaking vistas and serene ambiance. A gushing stream plunges from the verdant cliffs, creating a captivating sight and a refreshing experience.
Amboli's lush green surroundings, mist-laden valleys, and rich biodiversity make it a haven for nature lovers and photographers alike. The rainy season enhances its charm, and adventurous souls often venture on treks to explore the cascading wonders hidden within this picturesque landscape.
9. Ozarde Waterfall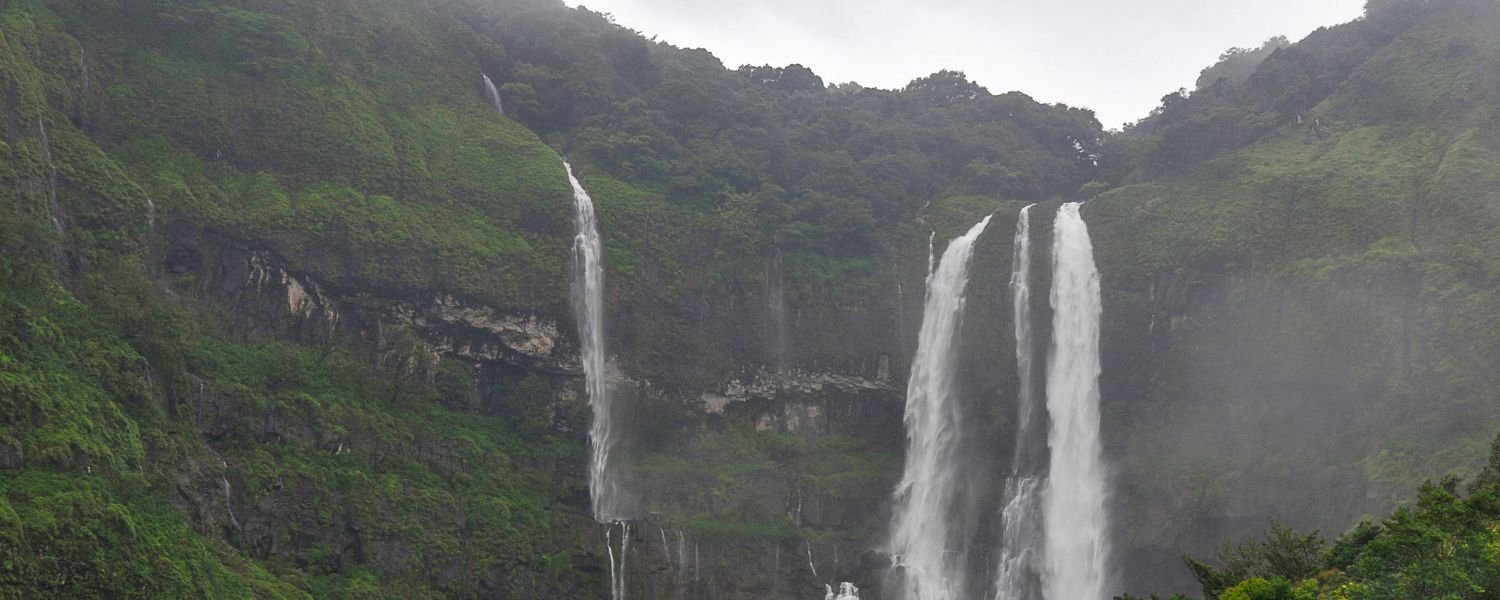 Tucked away in the picturesque Ratnagiri district of Maharashtra, Ozarde Waterfall is a delightful sight that enchants visitors with its natural splendor. Surrounded by thick vegetation and hilly terrains, this charming waterfall offers a perfect respite from bustling city life.
Its soothing cascades create a beautiful white veil amidst the emerald greenery. Ozarde provides a serene atmosphere to unwind, meditate, or simply immerse oneself in nature's symphony. As a lesser-known destination, it offers a tranquil escape for travelers seeking a peaceful and offbeat experience away from the tourist crowds.
Conclusion 
As we conclude our journey through the exquisite waterfalls of Maharashtra, we can't help but be in awe of nature's grandeur. These cascades have unveiled their captivating beauty, leaving an indelible mark on our hearts. Each waterfall has whispered tales of mystery and wonder from the thundering roars to the serene whispers.
As we return from this adventure, we carry with us memories of turquoise plunge pools, misty cliffs, and the serenity found in the heart of the wilderness. Maharashtra's waterfalls stand as a testament to the raw power and delicate charm of nature, reminding us of the importance of preserving these precious treasures for generations to come.