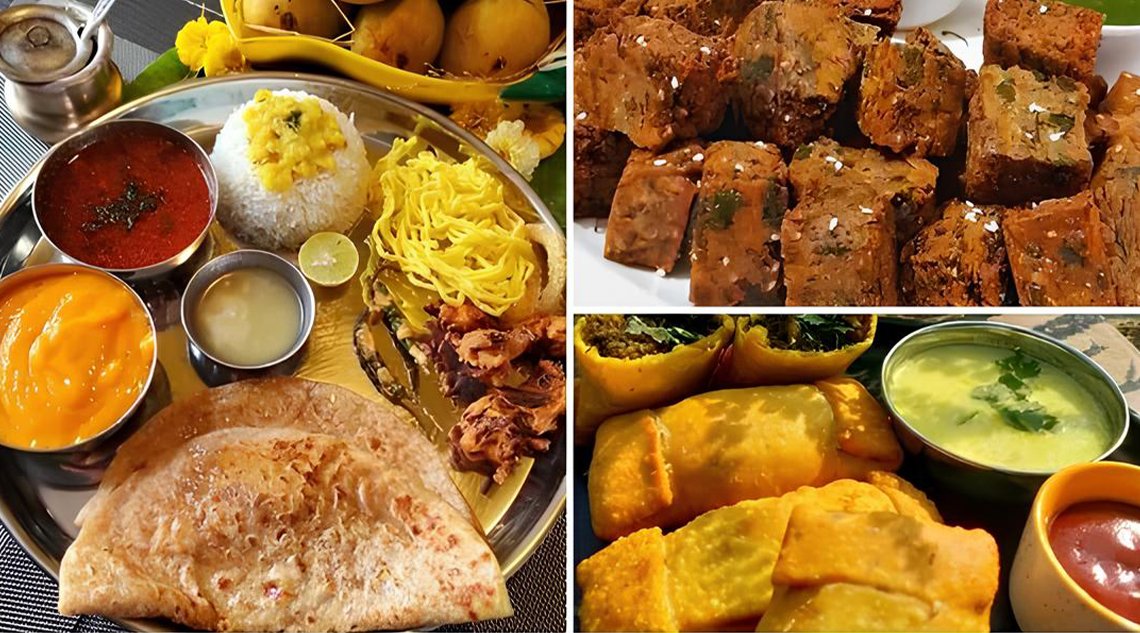 Embark on a mouthwatering culinary journey through the captivating world of Maharashtra's finest delicacies in "Irresistible Flavors of Maharashtra Dishes." Delight your taste buds with the iconic Vada Pav, aromatic Puran Poli, and the spicy allure of Misal Pav.
From the comforting warmth of Bhakri to the delectable sweetness of Ukadiche Modak, each dish presents an unparalleled experience of tradition and taste.
Join us as we explore the rich tapestry of flavours, textures, and aromas that define Maharashtra's gastronomic heritage, promising an irresistible feast for all senses. Get ready to savour the essence of this vibrant and diverse cuisine, where every bite leaves an indelible mark of delight.
1. Vada Pav
The beloved street food gem of Maharashtra! A symphony of flavours awaits as you bite into a soft bun enveloping a spicy, crispy potato cake. This iconic snack packs a punch with its zesty chutneys and fragrant spices, creating a harmonious blend of textures and taste.
Loved by people of all ages, Vada Pav is not just a dish but an emblem of Mumbai's vibrant food culture. Whether relished on bustling street corners or cosy cafes, each bite is a delightful journey that leaves a lasting impression. Get ready to savour the essence of Mumbai's culinary soul with every mouthwatering Vada Pav!
2. Misal Pav
This iconic Maharashtrian dish takes your taste buds on an unforgettable journey. A delightful medley of sprouted moth beans cooked in a fiery spice blend, this spicy curry boasts a tantalizing aroma that lures you in.
Topped with crunchy farsan, chopped onions, and fresh coriander, Misal Pav tantalizes both the eyes and the palate. The soft, fluffy pav bread is the perfect companion, balancing the spiciness with its mild sweetness.
Whether enjoyed as a hearty breakfast or a satisfying snack, Misal Pav embodies the essence of Maharashtra's vibrant culinary heritage, leaving you craving for more with every heavenly bite.
3. Puran Poli
Indulge in the sweet symphony of Puran Poli, a cherished Maharashtrian delight. This traditional flatbread captivates with its soft texture and is filled with a delectable blend of cooked chana dal, jaggery, and aromatic spices.
The combination of flavours, from jaggery's rich sweetness to dal's earthy essence, creates a harmonious balance that dances on your taste buds. Whether served warm with a dollop of ghee or enjoyed as a festive treat, Puran Poli celebrates the essence of cultural heritage and joyous occasions.
4. Pav Bhaji 
Dive into the vibrant world of Pav Bhaji, an iconic street food that never fails to charm. This delightful dish combines a medley of mashed vegetables infused with a symphony of spices and served with soft, buttered pav buns. The rich and flavorful bhaji, paired with the pillowy pav, creates an explosion of tastes and textures in every bite.
A favourite among food enthusiasts and locals alike, Pav Bhaji's lusciousness and street-side charisma make it an all-time classic, perfect for satisfying cravings and embracing the vibrant spirit of Maharashtra's culinary delights.
5. Bhakri
It is a traditional and rustic flatbread that is cherished in Maharashtrian cuisine. Made from millet flour, it boasts a unique texture and flavour. The unleavened dough is rolled into thin discs and then roasted on a hot grill until golden brown.
Bhakri is often served with various accompaniments such as the flavorful pita (gram flour curry), the cha (spicy chutney), or a dollop of fresh homemade butter. Its earthy taste and chewy texture make it a popular choice among locals, and it provides a wholesome and satiating addition to meals.
6. Poha
It is also known as flattened rice and is a light and fluffy dish that has won the hearts of many. It is made by soaking flattened rice in water and stir-frying it with onions, mustard seeds, turmeric, and other spices.
Often garnished with peanuts, coriander leaves, and a dash of lime juice, Poha offers a delightful blend of sweet, tangy, and savoury flavors. This quick and nutritious breakfast option is beloved for its simplicity, making it a favourite in households and street food stalls across Maharashtra. 
Ready to discover more about the exquisite waterfalls of Maharashtra. Don't miss out! Read our blog for an in-depth exploration of these hidden gems.
7. Sabudana Khichdi
It is a delightful and wholesome dish from Maharashtra, cherished especially during fasting days. This gluten-free delicacy features soaked tapioca pearls cooked with peanuts, potatoes, and aromatic spices, resulting in a savoury and comforting treat that satisfies taste buds.
The soft, chewy texture of the pearls and the crunch of roasted peanuts create a delightful contrast. Topped with fresh coriander and a splash of lime juice, Sabudana Khichdi offers a burst of flavour in every bite, making it a popular choice for fasting and regular meals.
8. Bombil Fry
It is a mouthwatering seafood delicacy that showcases Maharashtra's coastal culinary brilliance. Also known as Bombay Duck, this fish is marinated in a mix of spices, coated in semolina (rava), and then shallow-fried to perfection.
The result is a crispy and flavorful delight that seafood enthusiasts adore. The combination of delicate flavours and the crispy exterior makes Bombil Fry a favourite among seafood lovers, earning its place as one of the iconic dishes of Maharashtra's coastal cuisine.
9. Kolhapuri Misal
A fiery delight hailing from the vibrant city of Kolhapur in Maharashtra is a culinary adventure that ignites the taste buds. This spicy, aromatic dish comprises a medley of sprouted legumes, farsan (crunchy toppings), onions, and a luscious gravy served with pav (bread).
Its distinct flavour profile, enriched with an array of spices, chilli, and a secret Kolhapuri masala, leaves a memorable impression on every palate, satisfying spice lovers with its irresistible kick.
10. Bhareli Vangi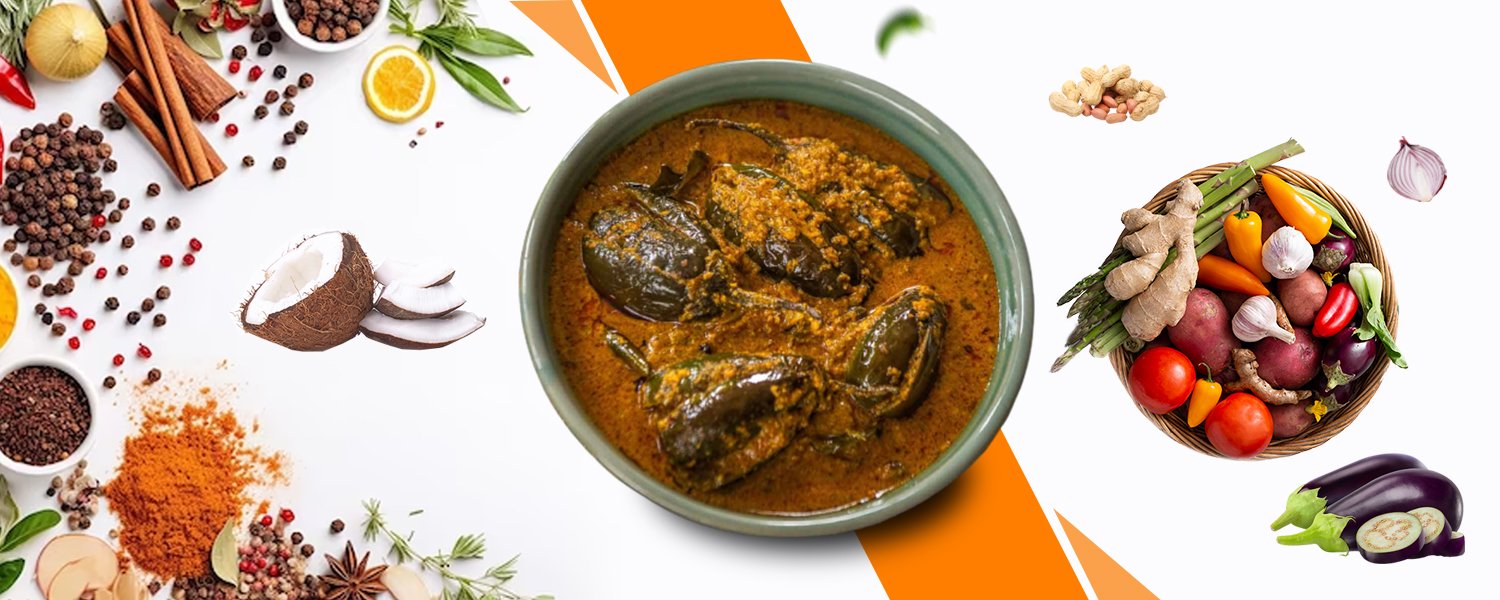 On the other hand, it is a soulful creation showcasing Maharashtrian flavours' richness. This delectable dish features baby eggplants stuffed with a delightful blend of spices, coconut, and sometimes peanuts.
Cooked to perfection, the tender egg plants absorb the flavours, resulting in a comforting and aromatic culinary experience that captures the essence of Maharashtra's gastronomic heritage.
11. Kanda Poha
It is a beloved breakfast option made with flattened rice poha cooked in a flavorful mix of onions (kanda), mustard seeds, turmeric, and curry leaves, creating a light and satisfying dish that captivates with its simplicity and heartiness.
Ukadiche Modak is a delectable sweet treat commonly prepared during the auspicious festival of Ganesh Chaturthi. These steamed dumplings feature a luscious filling of grated coconut, jaggery, and aromatic spices encased in a soft and delicate rice flour shell. Ukadiche Modak symbolizes devotion and prosperity, making it a cherished part of cultural celebrations.
Conclusion 
The delightful flavours of Maharashtra's iconic dishes, including Kanda Poha and Ukadiche Modak, offer a tantalizing glimpse into the state's rich culinary heritage. 
From the humble and satisfying Kanda Poha, a breakfast favourite bursting with savoury goodness, to the heavenly Ukadiche Modak, a sweet treat symbolizing devotion and celebration, each dish is a culinary masterpiece that captures the essence of Maharashtra's diverse culture.
The fusion of spices, textures, and aromas in these dishes creates an unforgettable experience that is both easy to read about and immensely intriguing. Embark on this gastronomic journey and immerse yourself in the irresistible allure of Maharashtra's mouthwatering delicacies.