Karnataka, a southern state in India, is a land rich in cultural heritage and architectural marvels. Its history dates back to ancient times and witnessed the rise and fall of many dynasties.
With such a long and varied past, it is no surprise that Karnataka is home to some of the most iconic monuments in the country. Each structure tells a tale of the state's glorious past, from grand palaces to intricate temples.
In this journey of discovering the treasures of Karnataka, we will unveil the secrets and significance of these iconic monuments and explore the cultural, religious and artistic influences that shaped them. Join us as we unravel the beauty and magnificence of Karnataka's most iconic landmarks.
1. Gol Gumbaz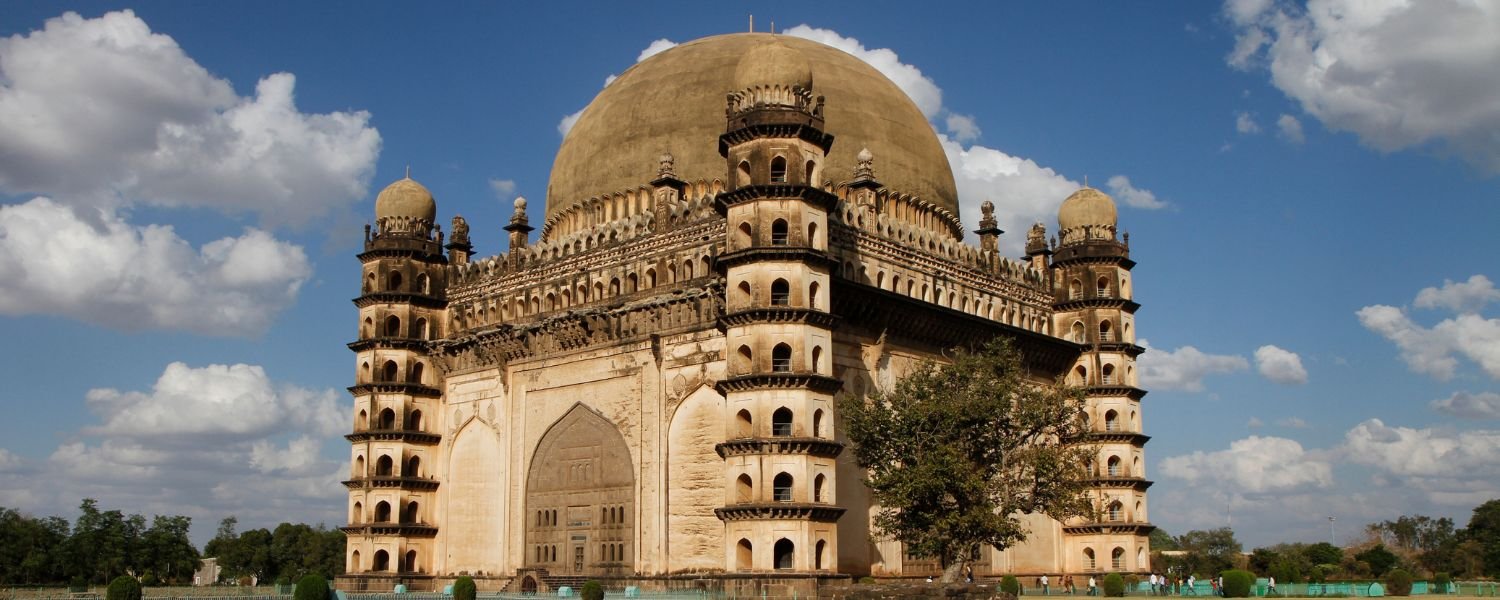 Gol Gumbaz is a stunning mausoleum located in Bijapur, Karnataka, India. It was built in the 17th century by the Adil Shahi dynasty and is known for its remarkable architecture and unique features.
The most prominent feature of this structure is its massive dome, which has a diameter of over 44 metres, making it the second-largest dome in the world.
The dome is supported by eight intersecting arches, creating a beautiful and mesmerising acoustic effect known as the "whispering gallery."
The mausoleum's interior is adorned with intricate carvings, beautiful calligraphy, and elegant symmetry. Gol Gumbaz is a must-visit for history buffs and architecture enthusiasts, providing a glimpse into India's rich and diverse heritage.
2. Badami Caves, Bagalkot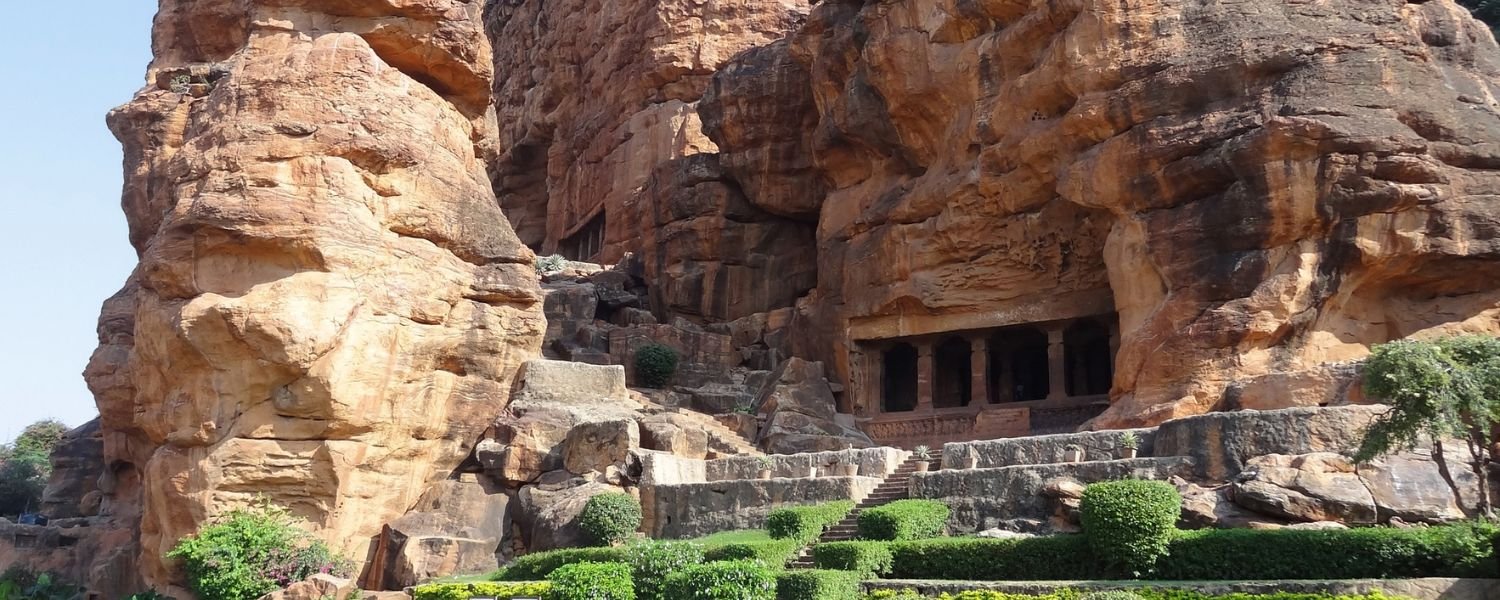 Badami Caves, located in the Bagalkot district of Karnataka, India, are a group of ancient rock-cut caves. These caves are famous for their intricate architecture, stunning murals, and historical significance.
Consisting of four main caves – Cave 1, Cave 2, Cave 3 and Cave 4, Badami Caves showcase a perfect blend of Hindu and Jain cultures.
It is believed that these caves were built between the 6th and 8th centuries by the rulers of the Chalukya dynasty. The caves are dedicated to various deities such as Lord Shiva, Vishnu, and Jain Tirthankaras.
One of the main attractions of the Badami Caves is the famous Vishnu sculpture in Cave 1. Surrounded by beautiful hills and a peaceful lake, these caves are a must-visit for history and architecture enthusiasts.
3. Bijapur
Bijapur, also known as Vijayapura, is a historic city in Karnataka, India. It was founded by the Chalukyan dynasty in the 10th century and was ruled by various dynasties like the Rashtrakutas, Yadavas, and the Bahmani Sultanate.
It was an influential Islamic sultanate during the mediaeval period and was a hub for art, architecture, and literature. The city is known for its magnificent monuments, such as the Gol Gumbaz, Ibrahim Rauza, and Malik-e-Maidan, which showcase the region's rich cultural and architectural heritage.
Along with its historical significance, Bijapur also has a vibrant culture and is famous for its unique cuisine, music, and dance forms. Today, it serves as a major tourist destination and attracts visitors from all over the world.
4. Srirangapatna
It is situated on the banks of the Kaveri River and is surrounded by scenic landscapes and paddy fields. The town was founded in the 9th century by the Ganga dynasty and is famous for its historical and religious significance.
It was the capital of the Mysore kingdom and served as the stronghold of the famous ruler Tipu Sultan. The town is known for its architectural wonders, including the Ranganathaswamy Temple, Daria Daulat Bagh, and Tipu Sultan's Summer Palace.
It is also a major pilgrimage site for Hindus, with many temples dedicated to various deities. Srirangapatna attracts tourists from all over the world, who visit to explore its rich cultural heritage, natural beauty, and architectural marvels.
5. Mysore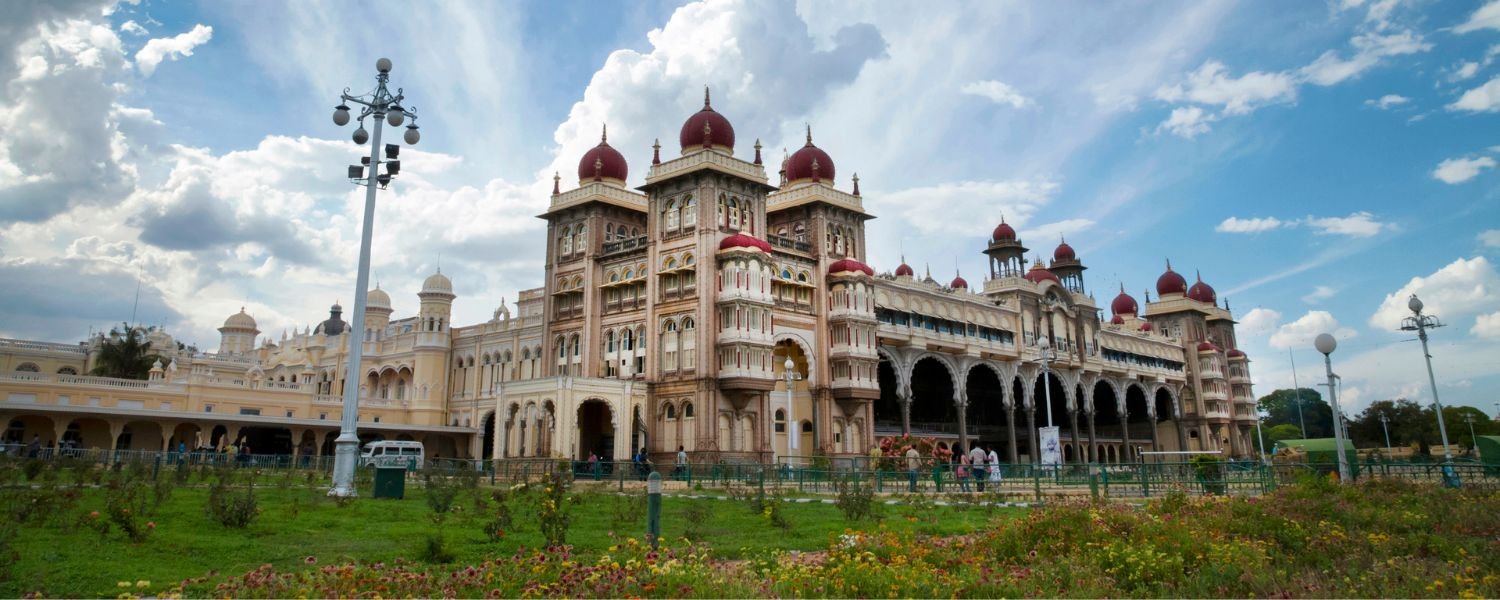 Mysore, also known as Mysore, is a beautiful city in Karnataka, India. It is known for its rich heritage, grand palaces, and vibrant culture. The Wadiyar dynasty ruled the city for several centuries, and their influence can be seen in the magnificent buildings and monuments around the city.
Mysore is also famous for its silk sarees, sandalwood products, and mouth-watering cuisine. One of the city's major attractions is the Mysore Palace, which is a perfect blend of Indo-Saracenic architecture.
Other popular tourist spots include Chamundi Hills, Brindavan Gardens, and the bustling markets of Devaraja and Krishnaraja.
Mysore is also a hub of art and education, with many renowned institutions. With its charming mix of traditional and modern, Mysore is a must-visit destination for anyone looking to experience the true essence of South India.
6. Gomateshwara, Shravanabelagola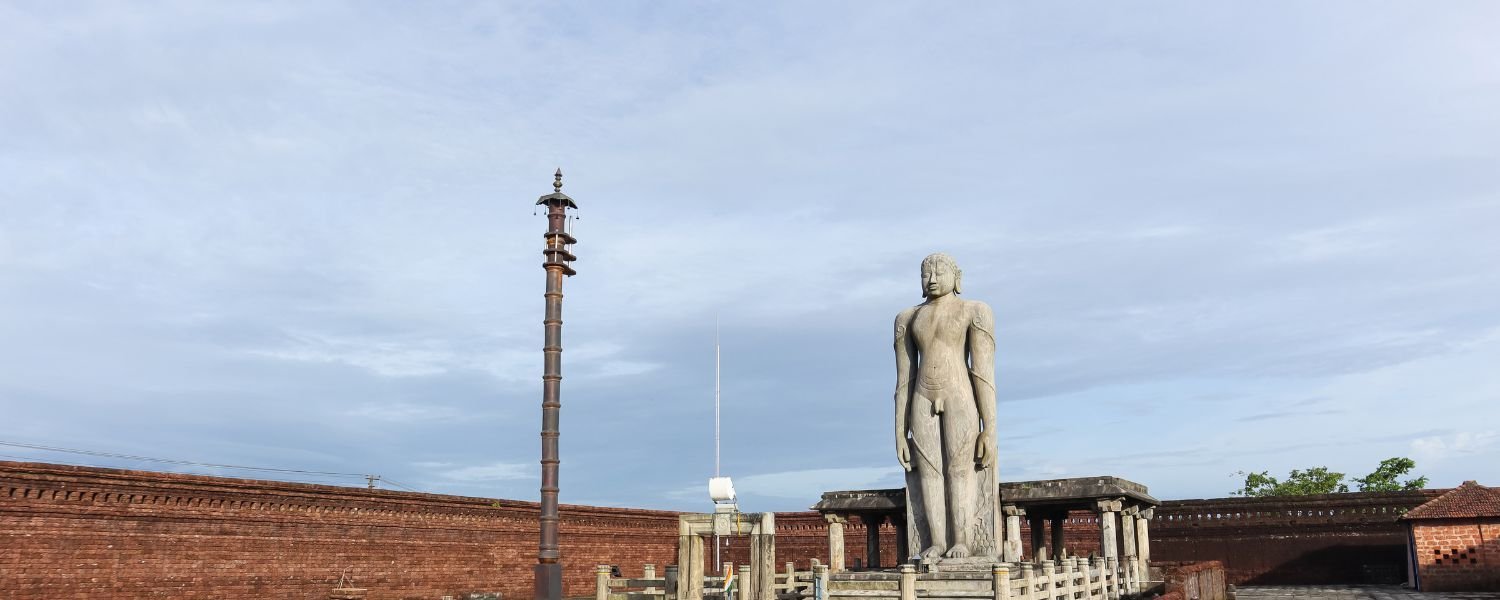 Gomateshwara is a 17-metre-tall monolithic statue located in Shravanabelagola in Karnataka, India. It is considered one of India's most magnificent and significant symbols of Jainism.
The statue was carved out of a single granite block in the 10th century CE under the patronage of the Ganga dynasty rulers.
Gomateshwara is also known as Bahubali and is worshipped by Jains as the first Tirthankara (enlightened being). The annual Mahamastakabhisheka festival is celebrated here with great enthusiasm, where the statue is anointed with milk, honey, and other sacred substances.
It is not just a religious site but also a major tourist attraction, attracting visitors with its remarkable architecture, history, and spiritual significance.
7. Pattadakal Monuments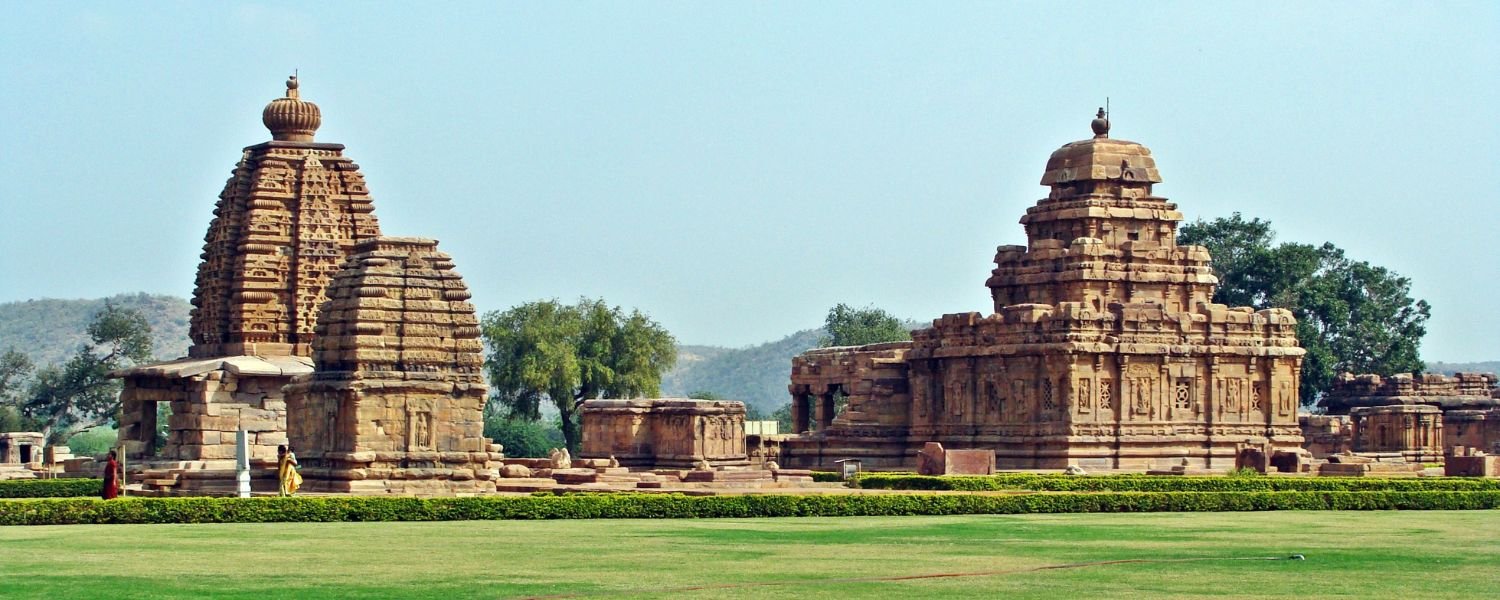 Pattadakal Monuments is a UNESCO World Heritage Site located in the Indian state of Karnataka. It is a group of ten temples showcasing the fusion of Hindu and Jain architecture, dating back to the 7th and 8th centuries.
The monuments were built by the Chalukya dynasty, and each temple has its unique architectural style and intricate carvings.
Some famous temples are the Virupaksha, Mallikarjuna, and Sangameshwara. These temples also have inscriptions that depict the history and culture of the Chalukya dynasty.
Pattadakal Monuments is a popular tourist attraction for history and architecture enthusiasts. It perfectly blends religion, art, and heritage, making it a significant landmark in Indian history.
8. Halebidu
Halebidu, also known as Halebeedu, is a small town in Karnataka, India. It is famous for its ancient Hoysala architecture and popular tourist destination. The town was the capital of the Hoysala Empire in the 12th and 13th centuries.
The main attraction of Halebidu is the Hoysaleswara Temple, dedicated to Lord Shiva, which is renowned for its intricate carvings and sculptures.
The temple is a perfect example of Hoysala architecture and is a UNESCO World Heritage Site. The town also has other notable temples such as the Kedareshwara Temple and the Jain Basadi. Apart from its rich cultural and historical significance. You can even also explore the majestic beauty of Karnataka waterfalls here.
9. Somnathpur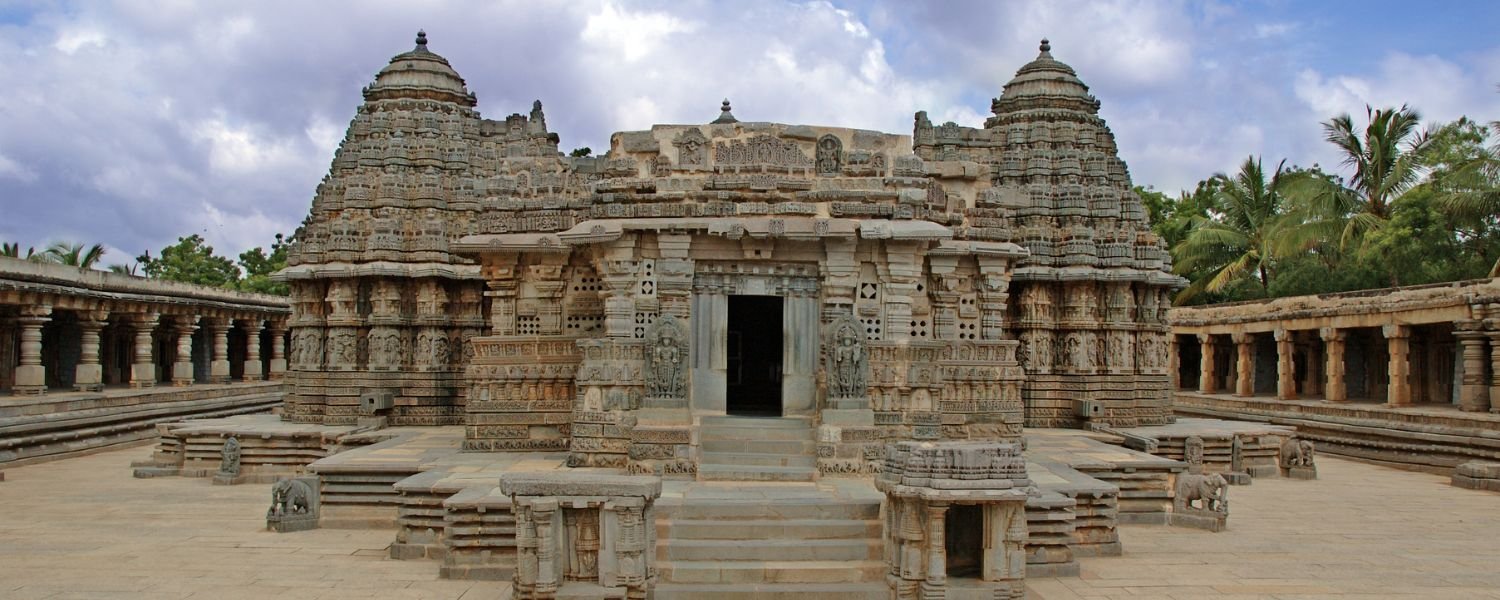 Somnathpur, also known as Keshavapura, is a small village in the southern Indian state of Karnataka. It is situated at a distance of about 35 kilometres from the historic city of Mysore.
The village is famous for its beautiful Chennakesava Temple, built in the 13th century by the Hoysala dynasty. The temple is dedicated to Lord Vishnu and is known for its magnificent architecture and intricate sculptures.
It is a popular tourist destination and attracts many visitors every year. The village is surrounded by lush greenery and offers a peaceful and serene ambience, making it an ideal place for spiritual and cultural retreats.
10. Rangeen Mahal
Rangeen Mahal, also known as the "Colourful Palace", is a historic palace in Karnataka, India. It was built in the 19th century by the Maharaja of Mysore for his queen, Maharani Kempananjammanni Devi.
The palace is known for its exquisite architecture and vibrant colours, making it a popular tourist attraction.
The Rangeen Mahal blends Hindu and Islamic styles with intricate carvings, arched doorways, and beautiful paintings adorning its walls.
The palace has a central courtyard and many ornate rooms that once served as the queen's private chambers. It also has a durbar hall, where the king meets his courtiers and holds important meetings.
Conclusion 
The state of Karnataka is a treasure trove of iconic monuments that are a testament to its rich history and vibrant culture. From the exquisite temples of Hampi to the grandeur of Mysore Palace, each monument holds a unique story and architectural style within it.
Through our journey, we have discovered the beauty and intricacy of Badami caves, the Golden Chariot temple's peacefulness, Gol Gumbaz's majesty, and many more hidden gems. These monuments of Karnataka not only showcase the grandeur of the past but also serve as a reminder of Karnataka's diverse heritage and traditions.
It is a delight for any traveller seeking to delve into the deep roots of Indian culture and history. With each visit, one can truly appreciate the ingenuity and skill of the artisans who have left behind these priceless treasures for generations to admire. The iconic monuments of Karnataka are a true wonder and a testament to the glorious past of this magnificent state.